Cucusoft iPod Audio Video Foto Transfer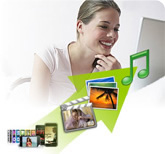 Come Trasferire canzoni/video da iPod al computer
Perchè usare ImToo iPod to Computer Transfer?
- Crea Backup canzoni mp3 da iPod sul PC.
- Copia mp3 da iPod sul computer o notebook.
- Condividi le canzoni/video presenti sul tuo iPod con i tuoi amici.
- Copia tutte le canzoni mp3 su un nuovo iPod.


Imtoo iPod to Computer Transfer è un'applicazione utile per trasferire musica mp3 da iPod su computer.
Con iPod to Computer Transfer, i possessori di iPod potranno trasferire canzoni mp3 da iPod a PC molto facilmente. iPod to PC Transfer utilizza il database interno del iPod's e te lo fa visualizzare istantaneamente. Tansee iPod audio video Transfer è completamente compatibile con tutti gli iPods esistenti inclusi iPod, iPod Photo, iPod mini, iPod shuffle, iPod nano e iPod video.

TUTORIAL
Prima di avviare il programma assicurati di aver installato iTunes sul tuo computer, e che puoi gestire il tuo iPod senza problemi.
Step1:
Dopo aver connesso il tuo iPhone/iPod/iTouch al PC, avvia il programma e vedrai la schermata qui a destra.
Di solito il programma automaticamente rileva il dispositivo collegato. Se il dispositivo è attivo, i files (canzoni/filmati/foto) saranno mostrati nella schermata del programma:
Step2. Scegli i files che vuoi trasferire da iPod su PC e poi clicca su EXPORT
Step 3
: Dopo aver cliccato su
Export
si aprirà la finestra seguente, e puoi scegliere di effettuare il trasferimento diretto sul PC o su iTunes. Puoi impostare la cartella di uscita andando in
Advanced->Options
prima di fare il trasferimento.
Step 4: Alla fine del trasferimento si aprirà una finestra che ti dice quanti files sono stati copiati. Clicca su
OK
per vedere questi files.
Tutto qui!
SCARICA VERSIONE TRIAL

Se vuoi trasferire files da un iPod ad un altro iPod allora leggi:
Come Trasferire Files fra 2 o più iPod
ARTICOLI CORRELATI
>
Convertire video per iPod
>
Files da iPod al PC
>
Files da iPhone al PC
>
Trasferire files fra iPod
>
Imtoo iPod Transfer
>
Imtoo iPhone Transfer

> Cucusoft Video to iPod Converter